The equipment required for the barite production line configured by our company includes vibrating feeder, jaw crusher, barite mill, etc. The production line has strong production capacity, high efficiency, good energy saving and environmental protection performance, long service life. The processed barite material has higher application value.
Barite is fragile, so in the crushing process, we recommend using a jaw crusher to avoid using impact crusher to crush barite and avoid producing a large amount of fine ore. The raw ore can be crushed by the jaw crusher to obtain better crushing effect.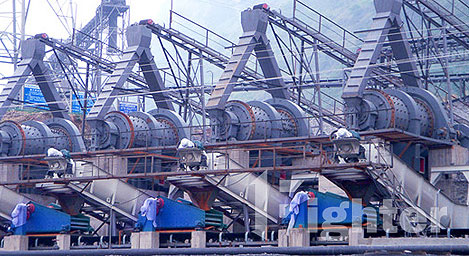 The crushed barite ore is screened, which greatly increases the sorting efficiency and sorting index of the sorting equipment.
The particle size of barite inlaid cloth is larger than 2mm, and it is usually possible to use heavy medium sorting and jigging sorting. The maximum particle size of heavy media sorting is 50mm, and the maximum particle size of wet and dry jigging is about 20mm. The embedded particle size is less than 2mm, which can be sorted by shaking table or spiral classifier. Before the selection, the mud should be removed with a hydrocyclone to improve the selection effect.
The raw ore is washed, screened, crushed, graded and deslimed, and the concentrate of better quality can be obtained through the jig beneficiation process, and the product grade can reach more than 88%.