Ball mill
HOME | PRODUCTS | Ball mill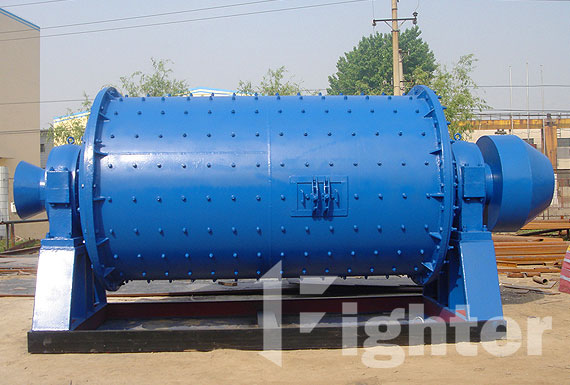 Processed Materials:
various ores and other materials with dry type and wet type
Applications:
Cement, coal, power plant desulfurization, metallurgy, chemical industry, non-metallic mineral, construction material, ceramics.
Type:ball mill Input:≤25 mm
+ Overview
Our ball mills are industrial grade and designed for continuous operation, equipped with oversize roller bearings and a complete drive system. All wear parts are highly abrasion resistant and replaceable.
+ Learn More About Ball mill
Working Principle:
The ball mill is a horizontal rotating device transmitted by the outer gear. The materials are transferred to the grinding chamber through the quill shaft uniformly. There are ladder liner and ripple liner and different specifications of steel balls in the chamber. The centrifugal force caused by rotation of barrel brings the steel balls to a certain height and impact and grind the materials. The ground materials are discharged through the discharging board thus the grinding process is finished.
Features:
1. Thick, manganese steel bolt-in liner sections for easy replacement, when needed
2. Oversized trunnion bearings for long life
3. 2″, 3″ and 4″ diameter alloy balls are included
4. Ball mills are supplied with a discharge trommel, allowing a choice of screens to limit top size discharge
+ Specifications - Technical Data
| | | | | | | | |
| --- | --- | --- | --- | --- | --- | --- | --- |
| Model | Rev. of barrel(rpm) | Max ball load(t) | Maximum feed size(mm) | Output fineness(mm) | Capacity(tph) | Power (kW) | Weight (t) |
| Ф900×1800 | 42 | 1.4 | ≤20 | 0.075-0.89 | 0.65-2 | 18.5 | 3.6 |
| Ф900×3000 | 41 | 2.5 | ≤20 | 0.075-0.89 | 1.1-3.5 | 22 | 4.5 |
| Ф1200×2400 | 36 | 3.5 | ≤25 | 0.075-0.6 | 1.5-4.8 | 30 | 11.5 |
| Ф1200×3000 | 32 | 5 | ≤25 | 0.075-0.6 | 1.6-5 | 45 | 12.8 |
| Ф1200×4500 | 32 | 5.5 | ≤25 | 0.074-0.4 | 1.6-5.8 | 55 | 13.8 |
| Ф1500×3000 | 31 | 6.8 | ≤25 | 0.074-0.4 | 2-7 | 75 | 17 |
| Ф1500×4500 | 27 | 10.5 | ≤25 | 0.074-0.4 | 3.5–8 | 110 | 21 |
| Ф1500×5700 | 27 | 15 | ≤25 | 0.074-0.4 | 3.5-10 | 132 | 24.7 |
| Ф1830×3000 | 26 | 13 | ≤25 | 0.074-0.4 | 4-12 | 160 | 28 |
| Ф1830×6400 | 26 | 23 | ≤25 | 0.074-0.4 | 6.5-15 | 210 | 34 |
| Ф1830×7000 | 26 | 25 | ≤25 | 0.074-0.4 | 6.5-22 | 210 | 36 |
| Ф2200×5500 | 21 | 30 | ≤25 | 0.074-0.4 | 10-20 | 245 | 48.5 |
| Ф2200×7500 | 21 | 33 | ≤25 | 0.074-0.4 | 16-50 | 380 | 56 |