Jaw crusher is a lithium ore crusher machine with high utilization rate. Due to its special structural design, it is generally used for primary crushing in lithium ore processing. Because of its large crushing rate and high output efficiency, it has attracted widespread attention. In the first procedure of the lithium ore processing production line, jaw crusher equipment is usually required.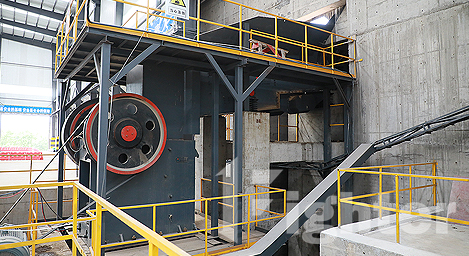 The jaw crusher has the following performance characteristics:
1. Reasonable structure, anti-wear parts:
The internal structure of the jaw crusher equipment is precise, and the components are made of production materials with strong wear resistance and compression resistance, which effectively enhances the compression resistance and wear resistance of the parts.
2. Deep cavity crushing, high production and energy saving:
The jaw crusher has a deep crushing cavity, which effectively improves the feeding capacity and production output of the equipment. The material will not be blocked in the crushing cavity. The equipment has a large crushing ratio, good energy-saving effect, and the produced mechanism sand has a uniform particle size.
3. Simple operation and convenient maintenance:
The jaw crusher equipment is equipped with a wedge discharge opening adjustment device, which makes the adjustment of the equipment discharge opening simple and fast. The equipment also adopts a centralized lubrication system. The lubrication of parts is simple and fast, and the daily maintenance is more convenient.
4. The equipment has high strength and good carrying capacity:
The Jaw Crusher adopts finite element analysis technology, the equipment has high strength, and is equipped with eccentric shaft bearings that are more durable than other crushers of the same specification, which effectively improves the bearing capacity and sealing effect of the bearings.
If you are interested in lithium ore crusher machine, please click on the online customer service for a detailed consultation.