HOME | CASE | Annual output of 100,000 tons of natural gypsum powder production line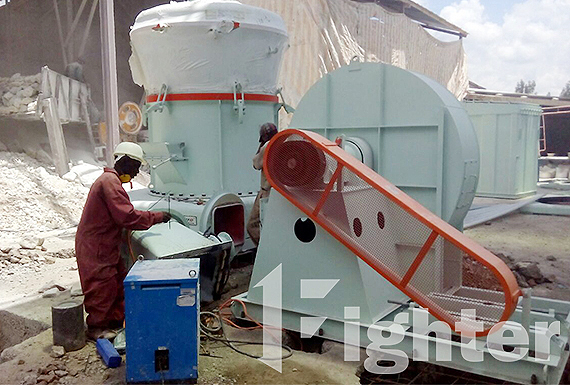 Annual output of 100,000 tons of natural gypsum powder production line
Equipment: Jaw crusher, MTW grinding mill, electromagnetic vibrating feeder, bucket elevator, etc.
Place of use: Kenya
Processed material: Gypsum ore
Input size: <=35mmOutput size: 325 mesh
Capacity : Annual output of 100,000 ton
Generally, gypsum can refer to two minerals: raw gypsum and anhydrite. Gypsum is calcium sulfate dihydrate, also known as dihydrate gypsum, hydrogypsum or soft gypsum. It is usually in the form of dense blocks or fibers, with a Mohs hardness of 2; anhydrite is anhydrous calcium sulfate, with a Mohs hardness of 3 to 3.5.
Gypsum is a widely used industrial and construction material and can be used as cement retarder, gypsum building products, model making, medical food additives, sulfuric acid production, paper filler, paint filler, etc.
Our MTW grinding mill adopts the advanced structure of similar products at home and abroad, and is updated and improved on the basis of Raymond mill. This equipment is more efficient than ball mills, consumes less power, occupies a smaller area, and requires less one-time investment.
The wearing parts are made of high manganese steel with long service life, and the motors are all national standard products. After being put into production, the production line has been running in a very stable state and the grinding effect is good.