For the development of high-speed railways, sand and gravel aggregates and concrete aggregates are particularly important.In order to meet market demand, Fighter continuously introduces technology on the basis of independent research and development and launches the 5X series sand making machine.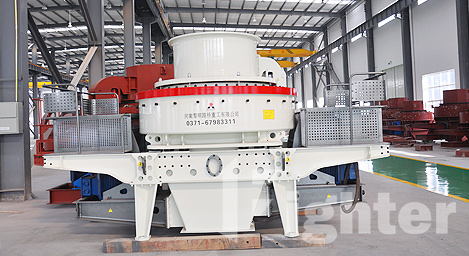 The characteristics of the centrifugal impact crusher produced by Fighter as follows:
1. After the optimized design of the deep cavity rotor, the material throughput can be increased by about 30%.
2. After the peripheral guard plate is partially worn, it can be used up and down to improve the material utilization rate and increase the service life by more than 48%.
3. Combined hammer head design, only need to replace the worn hammer head part, which can reduce the use cost by more than 30%. In addition, an auxiliary hammer head is added to effectively prevent the main hammer head from damaging the vertical plate after being worn.
4. The core wear-resistant materials are highly wear-resistant and high-temperature resistant materials used in important industries in the United States.
5. Using diamond-shaped impact block to avoid damage to the vertical board after the material is impacted and worn.
6. The bearings are selected from brands such as Japan, Sweden, and the United States.
7. Optimized launch port and smoother curve design inside, reduce the flow resistance of materials, and greatly improve the material passing capacity.
8. Dual-purpose bulk material tray, simple operation, easy to switch between two feeding methods.
9. The special sealing structure at the lower end of the main shaft ensures that there is no oil seal and no oil leakage.
10. The hydraulic cover opening device with original imported accessories from Japan can move the upper cover conveniently and quickly, saving labor and effort for replacing and repairing the internal parts of the machine body.
11. Choose a motor with a high degree of protection. This type of motor has the characteristics of high efficiency and low noise. Comply with the International Electrotechnical Commission (IEC) standard, F-class insulation, IP54/55 protection class.
The 5X series sand making machine is a brand new sand making machine developed by Fighter. It integrates three crushing modes. It is widely used in the construction, mining, metallurgical industries, highways, railways, bridges, hydropower and mineral grinding fields at home and abroad. As an industry, 5X series sand making machines are of great significance in accelerating the pace of development of high-speed railways in the world.