500 t/h limestone crushing and sand making production line
HOME | CASE | 500 t/h limestone crushing and sand making production line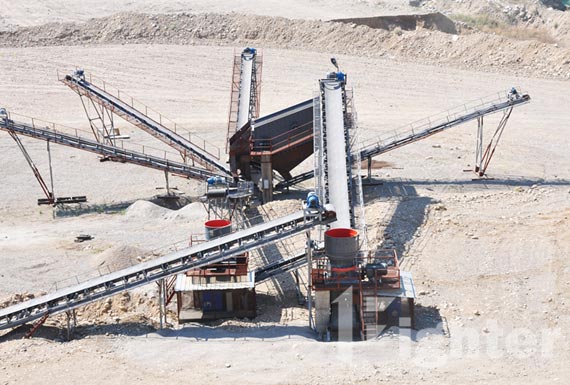 500 t/h limestone crushing and sand making production line
Equipment: HST series hydraulic cone crusher, VSI5X series sand making machine, S5X vibrating screen
Place of use: Algeria
Processed material: Limestone
Input size: 550 mmOutput size: 0/3mm 5/10mm 10/15mm
Capacity : 500 t/h
The main equipment of the production line is provided by Fighter. It is the first green mine production line in the surrounding market. The production line mainly produces crushed stone aggregate and machine-made sand, with an hourly output of up to 500 tons.
Project Overview
Material: Limestone
Capacity: 500 tons/hour
Production process: wet process
Finished product: fine crushed stone aggregate, fine machine-made sand
Finished product use: highway, mixing station
Main equipment: HST series hydraulic cone crusher, VSI5X series sand making machine, S5X vibrating screen
Project Benefits
1. Optimize the host and meet the engineering material standards
The project is equipped with a complete set of sand making equipment, and the finished product has a more rounded grain shape and a more reasonable gradation, which can meet the sand requirements of highways, mixing plants and other projects.
2. Produce stones and sand at the same time to meet market demand
This production line can not only produce stones, but also can be adjusted according to market demand to realize the simultaneous production of sand and stones to further satisfy the market.
3. Long service life of wear parts, reducing operating costs
The production line adopts all-dilute oil lubrication method, which is convenient for equipment maintenance and saves labor costs. The selection of high-quality wear-resistant parts greatly reduces equipment loss and production and operation costs.
4. Good performance of auxiliary equipment
In order to achieve the goal of high-capacity operation, the auxiliary equipment specially selects S5X circular vibrating screen. The flexible transmission system can effectively prevent work interruption and reduce the probability of motor damage.