HOME | CASE | 50-100tph mobile limestone crushing production line in South Africa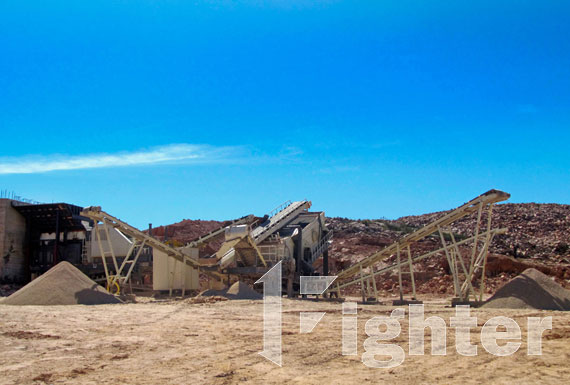 50-100tph mobile limestone crushing production line in South Africa
Equipment: Mobile jaw crusher, mobile impact crusher
Place of use: South Africa
Processed material: Limestone
Input size: ≤650mmOutput size: 0-5mm, 5-16mm, 16-31.5mm
Capacity : 50-100tph
Limestone can be used as a buliding material because of its convenient materials, large natural stock, abrasion resistance and weather resistance This customer mainly crushes limestone, and the raw material size is within 650mm. The customer's production site area is limited, and the general crushing production line is difficult to settle. After many comparisons and choices, the customer finally chose our mobile crushing production line.
The crushing production line is composed of a mobile jaw crusher and a mobile impact crusher. First, the mobile jaw crusher is used for coarse crushing, and then enters the mobile impact crusher for fine crushing and shaping treatment. This solution has low invettment cost, high crushing efficiency and flexible movement. The finished product has various specifications such 0-5mm, 5-16mm, 16-31.5mm, etc. The output size can be adjusted, and the effect is very good.
Feedback:
The production line has compact layout, small footprint, flexible movement, stable operation, intelligent operation, safety and environmental protection. The finished stone has diversified specifications and good quality, and the market economy benefits are very good.