HOME | CASE | 450-500 tons/hour basalt sand aggregate production line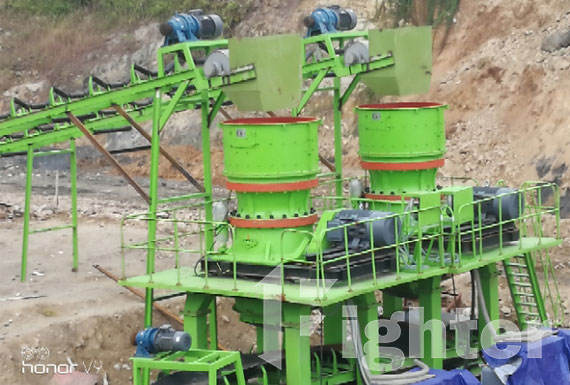 450-500 tons/hour basalt sand aggregate production line
Equipment: PE900×1200 jaw crusher, HST315 cone crusher, ZSW420×110 feeder,3Y2160 circular vibrating screens
Place of use: Peru
Processed material: Basalt
Input size: above 750mmOutput size: 0-5mm, 5-12mm, 12-24mm, 24-31mm, 31-40mm
Capacity : 450-500 tons/hour
According to the customer's requirements, there are five kinds of finished materials after basalt crushing. Therefore, our engineers replaced the coarse crushing and medium-fine crushing equipment with lower capacity and efficiency in the configuration of the production line and combined with the original equipment of the production line. It is equipped with PLC intelligent control mode and dust removal system to ensure the high efficiency and environmental protection of the entire production line.
The on-site production line includes PE900×1200 jaw crusher, two HST315 single-cylinder hydraulic cone crushers, one ZSW420×110 feeder, five 3Y2160 circular vibrating screens, a transfer silo, a dust removal system, and a dozen conveyors. belt conveyor.
The main equipment used by the customer is currently the mainstream equipment in the domestic mining crushing industry—HST315 single-cylinder hydraulic cone crusher. In addition to the advantages of high efficiency, low cost and long service life, the intelligent electronic control system has become a highlight of the production line. . The intelligent electronic control system can provide manual control, constant discharge port control, constant power control and other operation modes for users to choose; it can continuously monitor the actual load inside the crusher and automatically adjust the equipment to optimize the utilization rate of the crusher , so that the crusher can give full play to its performance during working hours; it can automatically monitor and provide alarms, display operating parameters, and understand the operation of the crusher in real time.