HOME | CASE | 400t/h granite crushing production line in Zimbabwe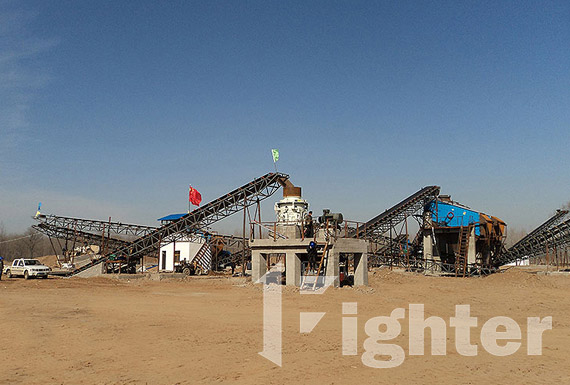 400t/h granite crushing production line in Zimbabwe
Equipment: PE900x1200 jaw crusher, HPT500 hydraulic cone crusher, vibrating screen, vibtating feeder
Place of use: Zimbabwe
Processed material: granite
Input size: 700mmOutput size: 0-5mm, 5-10mm, 10-20mm, 20-40mm
Capacity : 400t/h
Because the hardness of granite is relatively high and the shape of the stone is too large, generally a crusher cannot solve it, so a secondary high-hardness crushing system is required. First, the granite material is evenly fed into the jaw crusher by the feeder for coarse crushing. And then, the produced coarse material is conveyed by the conveyor to the cone crusher for secondary crushing, the finely crushed stone is sent to the vibrating screen to screen out the stones of different specifications, and the stone that does not meet the particle size requirement is returned to the cone crusher for cruhsing again.
Advantages of 400t/h granite crushing production line:
1. The granite crushing production line has added a crushing and shaping process, which not only ensures the crushing ratio and processing capacity, but also greatly increases the output.
2. The wearing parts are made of new high-strength wear-resistant materials, which have a long service life and can bring considerable economic benefits to customers.
3. In order to meet the different processing needs of customers, various types of equipment can be combined to idealize the interests of customers.