Feldspar is an important rock -making mineral in the rocky rock. It is a common type of aluminum silicate salt -made minerals containing calcium, sodium, and potassium, including sodium stones, calcium feldspar, feldspar, iconic stone, slightly oblique stone, and positive stone.
Longshi production process process:
The first stage: coarse crushing
The feldspar are uniform and stable to the jaw crusher by vibration machine for coarse crushing.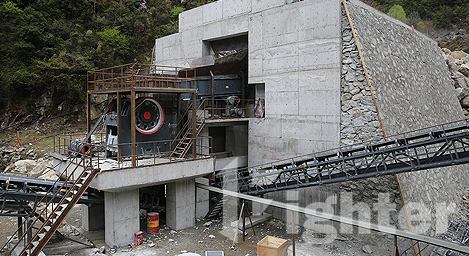 The second stage: medium fineness crushing
After the primary crushing, the feldspar will send the single -cylinder hydraulic cone crusher or multi -cylinder hydraulic cone crusher through the belt conveyor for secondary crushing, and then transport the broken feldspar particles to the vibration screen for separation.
Third stage: screening
After being separated, the feldspar particles that meet the requirements can be separated as a final product, and other feldspar particles will return to the single -cylinder/multi -cylinder hydraulic cone crusher continued to break until the product that meets the particle size requirements.
Production line advantage:
1.The crushing efficiency is very high, the finished product is good, and the product quality is good.
2.The entire process is reliable and stable, and it is very convenient to operate.
3.The cost of production lines is low, energy saving, and less pollution.