GROUP
NEWS
220-250 t/h basalt hard rock crushing process
Basalt is a good raw material for the production of "cast stone". "Cast stone" is a material obtained by melting, casting, crystallization and annealing basalt.
The Mohs hardness of basalt reaches 5 to 7, and the content of SiO2 is 45% to 52%. Therefore, impact crushers are generally not used for basalt crushing, and more cone crushers are used for the second and third stages of medium and fine crushing operations.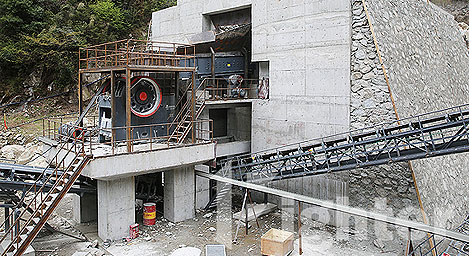 The basalt raw material enters the jaw crusher for coarse crushing through the feeder, and enters the HPT300 multi-cylinder hydraulic cone crusher for secondary crushing through the belt conveyor.
After being screened by the vibrating screen, the finished product with a size of 30-70mm is used as a finished ballast for high-speed rail;5-18mm for highway.
The whole production line has high efficiency, large output and low production cost.
Related News...
Coal gangue vertical mill2023-01-16
The advantages of Fighter's impact crusher2022-12-30
How to choose coarse crushing equipment in the sand and gravel crushing production line?2022-12-23
Neodymium iron boron powder grinding production line2022-11-25
100 tons per hour dry sand production line2023-01-13
What equipment is needed for the pebble sand production line?
Comparison of crushing effects by different crushing methods
What equipment is suitable for processing in the refractory material industry?2023-01-12