HOME | CASE | 200tph river stone mobile crushing and screening production line in Papua New Guinea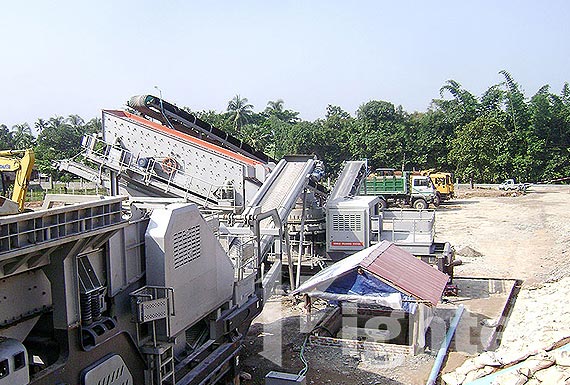 200tph river stone mobile crushing and screening production line in Papua New Guinea
Equipment: KS1860-1 mobile crushing and screening plant
Place of use: Papua New Guinea
Processed material: River Stone
Input size: 150mmOutput size: 0-10mm, 10-20mm, 20-40mm
Capacity : 200T/H
The client is a very well-konwn local construction company, and the preocessed river stone will be used to produce concrete aggregates. We recommend the mobile station for medium and fine crushing and screening to customers. It has both effective and reliable fine crushing equipment anf screening equipment with powderful processing capabilities, which can realize complex processing techniques and obtain good-quality concrete aggregates.
The 150mm river stone is sent to the KS1860-1 mobile crushing and screening plant. The motor makes the eccentric block of exciter rotate at a high speed through the triangle belt. The material on the screen is subjected to the impulse transmitted by the screen boc on the inclined screen surface to produce continuous throwing movement. The particles smaller than the sieve hole pass through the sieve, and the finished products of 0-10mm, 10-20mm, and 20-40mm are discharged.
Customer Review
In our island country, the use of equipment is transferred through word of mouth. Fighter Corportation has two mobile screening stations in Lae City, and 3 mobile crushing and screening stations in Port Moresby. The are used by quarries and aggregate processing companies. The effect is very good. This is our original intention for choosing Fighter Corportation. Since the operation, the capacity is large and the profit is large, we are satisfied!