HOME | CASE | 200 tons per hour construction waste crushing production line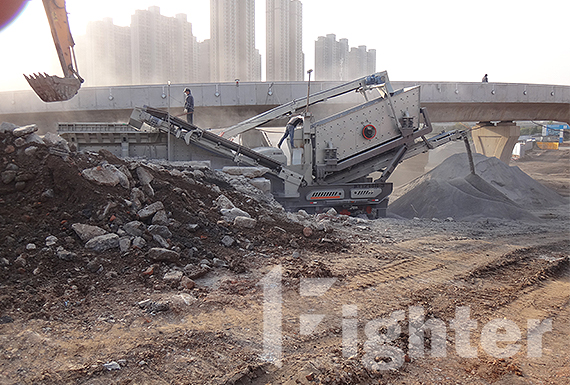 200 tons per hour construction waste crushing production line
Equipment: K series mobile station
Place of use: ZHEJIANG
Processed material: construction waste
Input size: 450 mmOutput size: 0-10mm, 10-20mm, 20-40mm
Capacity : 200 t/h
Following the needs of the international market, our company innovatively put forward the "green building material concept" a few years ago, and successfully developed a mobile crushing equipment that can turn construction waste into treasure through special research and development.
The equipment can completely deal with waste materials and wastes generated from building new construction, reconstruction, expansion, demolition and decoration. The crushed construction waste materials can be used to produce recycled aggregates, commercial concrete, dry-mixed mortar, energy-saving walls, water-stabilized materials and other green and environmentally friendly building materials.
Compared with fixed production line equipment, this equipment has incomparable advantages:
1.Flexible, quick transition
The mobile body support device of K series mobile crushing station can not only crush materials on site, but also ensure that users can move the equipment according to production needs at any time, and quickly switch between sites, eliminating the need for crushing sites, environments, complicated basic configurations and complicated logistics. The obstacle of crushing operation is the magic weapon for crushing scattered construction waste disposal sites.
2.Multi-model selection, flexible configuration
The K series mobile crushing station consists of 7 modules and more than 70 models, fully covering the mining production needs of coarse crushing, medium and fine crushing, fine crushing and shaping and screening, fine crushing and sand washing, independent operation, three-combination and four-combination; It can be used alone in one-stage crushing, or it can be combined with other crushing and screening mobile stations to achieve two-stage, three-stage or four-stage crushing, meeting various crushing and screening needs.